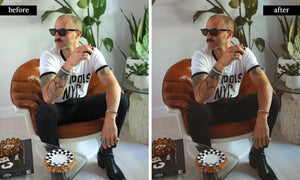 I'm constantly being asked how I edit my photos. Well, my wife is the woman behind the magic and she edits my photos in Lightroom. You can purchase my Lightroom preset to give your images the same kind of vibe that mine have! (both on mobile or on desktop)
Please note, all sales are final, but if you need any assistance at all with saving the preset into Lightroom or making small tweaks to fit your skin tone better, shoot us an email and we'd be happy to help!
If you purchase my preset and use it, make sure to tag me @BlueCollarPrep. I'd love to see your edits and give you a shout-out in my stories!
You'll receive both the .xmp file for desktop and a pre-edited photo, with my Lightroom preset settings saved within it, to upload to your mobile Lightroom app, so you can edit either on desktop or mobile.
Once you purchase, you'll receive an email from us shortly after with the files you need and the steps to get it setup in Lightroom. :)